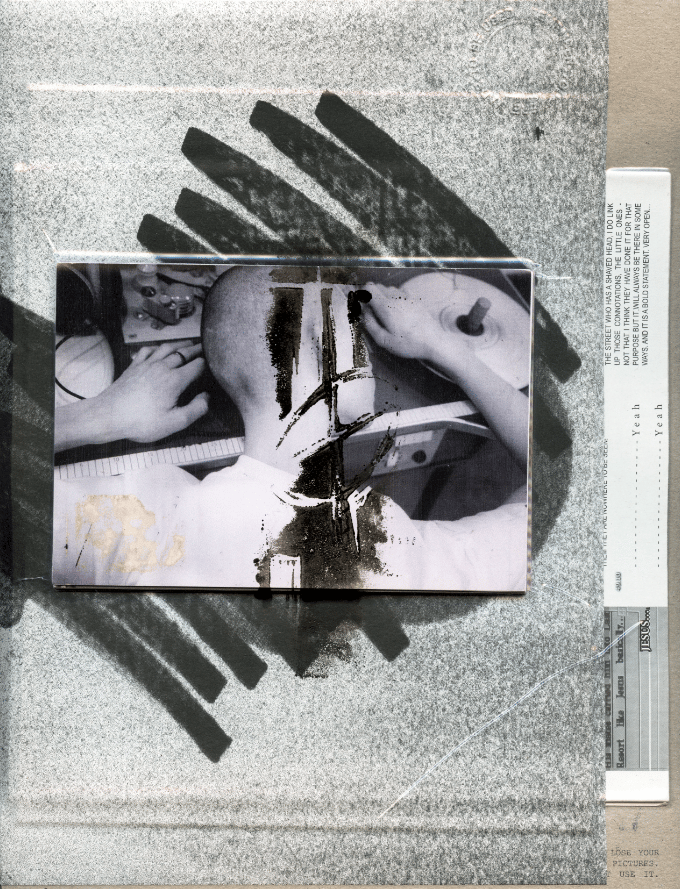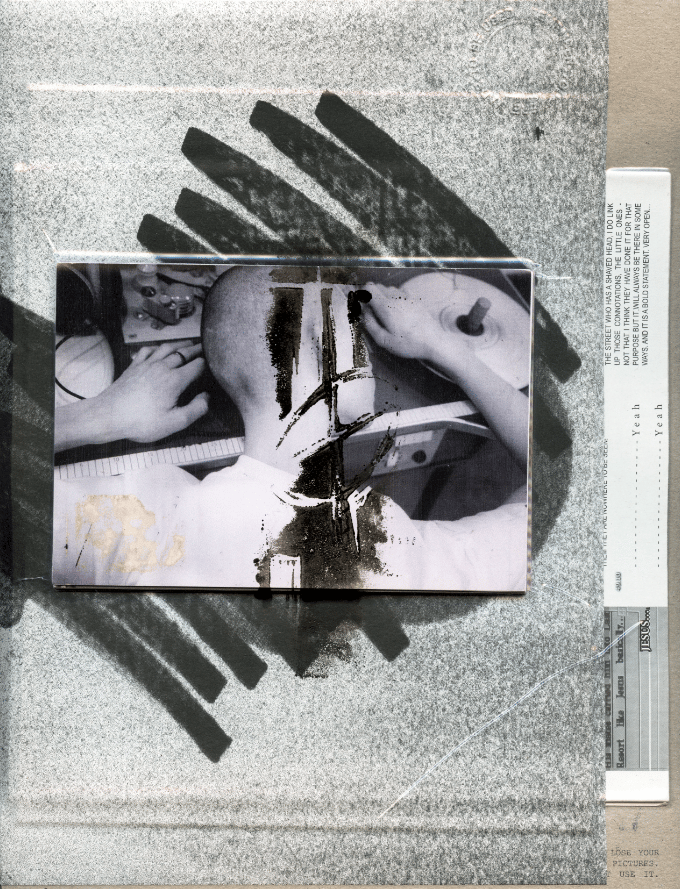 COMMAND-SHIFT-RE[V]ISITED
€70.00
LIMITED RE-RELEASE
/ 27 COPIES
CONTENTS :
[2] VICTOR / VICTIM
- 15 double sided images
- satin finish
- 115mm x 147mm
[3] FIT IN TO FIGHT
- 9,020 word untouched transcript from a conversation with Nick Knight
- A1 poster 120gsm (folded)
- double-sided with engraved razor blade image on reverse.
- 841mm x 1,189mm
[5] 'I SHOT FIVE BOYS'
- 16 page riso printed zine
- grey + burgundy ink.
- staple-bound
- 230mm x 180mm
'EAT YOUR ENEMY '
Riso printed poster
Original 2019 edition of 150
287 x 396mm (folded)
80gsm recycled white paper
Embossed with REMEMBER logo
Stamped with date + numbered.
Signed
+ each print has been given an individual title, hand written on the back of the print.
Packaged in a lino-printed vacuum pack, each comes hand numbered / 27, delivered with a signed 1 loose postcard image originally displayed at the 05052015 exhibition.
***Please note, all packages contain the same material. However each of the 27 is packaged to have a different VICTOR / VICTOR image at the front, making each package invariably 1 of a kind. Your image will be selected at random***.
3 - 5 WORKING DAYS FOR SHIPPING - hand packed with <3 + attention to detail
--------------------------------------------------------------------------------------
On 05/05 2015, REMEMBER YOU WERE MADE TO BE USED launched with a study of 'boys with shaved heads'. accumulating in an exhibition and zine experience.
The image of boys with shaved heads, was used as a deeper look into societal nostalgia, a replication of past ideals how that is reflected in an immediate consumption of surface level ideation. Some kind of collective subconscious. With a continuing fascination of how we behave online, how images of ourselves become used + re-used, even taking other peoples images to form parts of our identity. This study lead to street-casting 5 individuals with shaved heads, or willing to shave their head. Discussions + photo sessions with them - lead from a largely documentary perspective alongside other fragments of London at that time. Including Repton Boxing Club. These images exist as double-sided postcards; under the title VICTOR / VICTIM, with the idea you chose which side to display. Some choose to display them all together, others to give to comrades, or to leave alone allowing their own scratches and traces of use to occur.
A large formative part of this study is a conversation between REMEMBER + photographer Nick Knight talking about his days as a Skinhead, anecdotes behind his book 'SKINHEAD' and how those early days in the 1960's/70s started his photographic practice. This transcript, in all it's 1 hour time-coded glory forms an A1 poster. The intention to leave it in full, a genuine insight into some lesser discussed sides of the subculture + on the ground view points.
This is an on-goiong thought process. That ever develops. The origins of where REMEMBER begun have evolved, but looking back + re-visiting this material holds a special place in moving forward.
The intention with this collection of paper artefacts, was to design something that changes in the hand of every user. To hold together, tear apart, put them on your walls, write on them, send them to strangers... these are images, words, memories to be used.
Created - shot + designed by REMEMBER in 2015.
Re-curated + re-packaged by REMEMBER in 2023.
(printed @ Ditto Press, London / riso poster printed @ Quintal Editions)
FOR MORE IMAGES PLEASE VISIT @USEDTOREMEMBER on Instagram / hashtag #COMMANDSHIFTV
please note : 8 years later, in 2023 we would hugely re-consider the original form + design to not contain single-use* plastic, and should we release another series this will be considered. However as these are the last of the plastic packaging leftover in stock from original sale in 2015, we have put them to use. Given a bit of extra attention with a lino-printed logo, which may rub off if you are not careful. But also makes for a nice object, full or empty. Please kindly consider how you re/use / dispose / recycle . + future editions promise to do the best for the environment. *although it's lovely that some people don't even wish to open their package, to save it as received, with that we consider this re-release as an opportunity for those already in possession of the original release, who have not opened to acquire one they might, vice versa, one to remain unopened. Up to you.